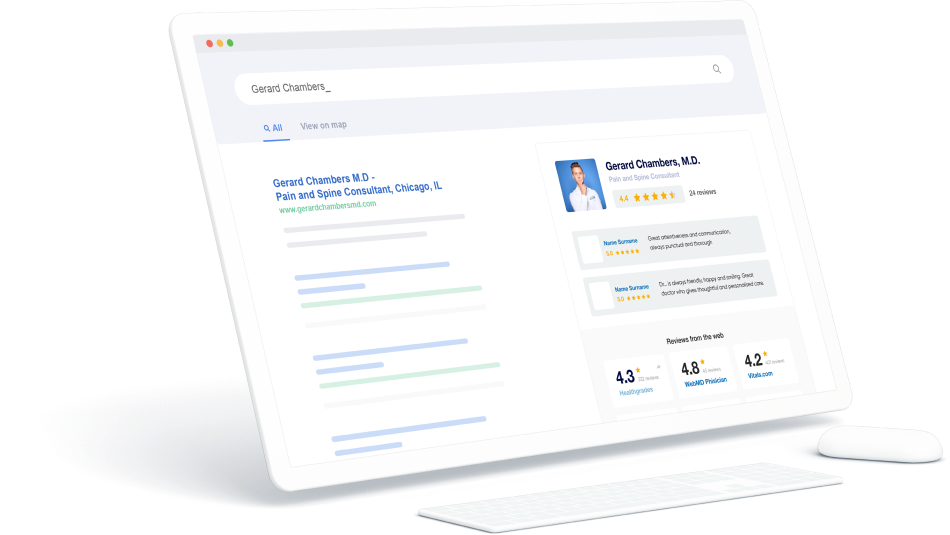 Reputation Management for your Practice
WebMD, HealthGrades, Google Reviews, Vitals, Yelp, and more, the list of Medical Reputation sites is extensive. Our Reputation Management campaigns address the difficulties practices face both generating and managing reviews across all platform.
Let your reputation
reflect your quality of care
From our experience, many doctors don't pay attention to their online reputation until after they receive their first negative reviews. Due to the private nature of the medical industry, patients don't instinctually leave positive reviews after a positive experience, leaving many practice's online reputation entirely dictated by a few negative reviews.
How do we improve your reputation?
All our partners, and their relevant reputation sites are surveyed from a centralized database, and tracked. We're notified of negative reviews immediately, and respond, and flag them for removal when possible. Post-appointment, patients are sent follow-up surveys to encourage them to leave reviews across multiple platforms themselves, or the option to provide us with an anonymous testimonial. We publish these testimonials from real accounts, protecting the patient's privacy. This exclusive service from New Wave ensures that more patients leave reviews, regardless of privacy concerns.
Lets grow your practice together